San Jose Newborn Photographer | 5 of my favorite newborn poses!
I've been photographing babies for almost 3 yrs now. I started off as a San Jose Newborn photographer who used to travel to clients' homes with all my props, posing apparatus and baby outfits. It took me a little bit of time to understand what are the kind of poses that my clients loved the most and then I shifted my focus on creating those within the first hour of the session- we all know that's probably the only hour the baby will be in deep sleep for anyways so I wanted to make the most of it!
Not only did this improve posing flow, it also helped me cut down on unnecessary things that my assistant and I would lug to our clients' homes (Imagine climbing 3 floors in San Francisco with all those heavy things!) Even though I shoot in studio now, I've still continued to focus on these poses and guess what, all my clients still love them and they definitely make the top 5 images that they choose to frame and display in their homes!
PS: I've named each of them myself so please bear with me!
1. Tucked in tight:
I love the simplicity of this pose and given that it is done with the baby completely wrapped, it makes it easy to do this with not just 1-2 weeks old newborns but older newborns and awake babies. First-time parents absolutely love how this makes their little one look comfortably tucked into bed (sleeping baby is every first-time parent's dream!) and at the same time shows off their face clearly!
I love styling this pose with or without a blanket layer but parents always seem to prefer the layered look as shown here!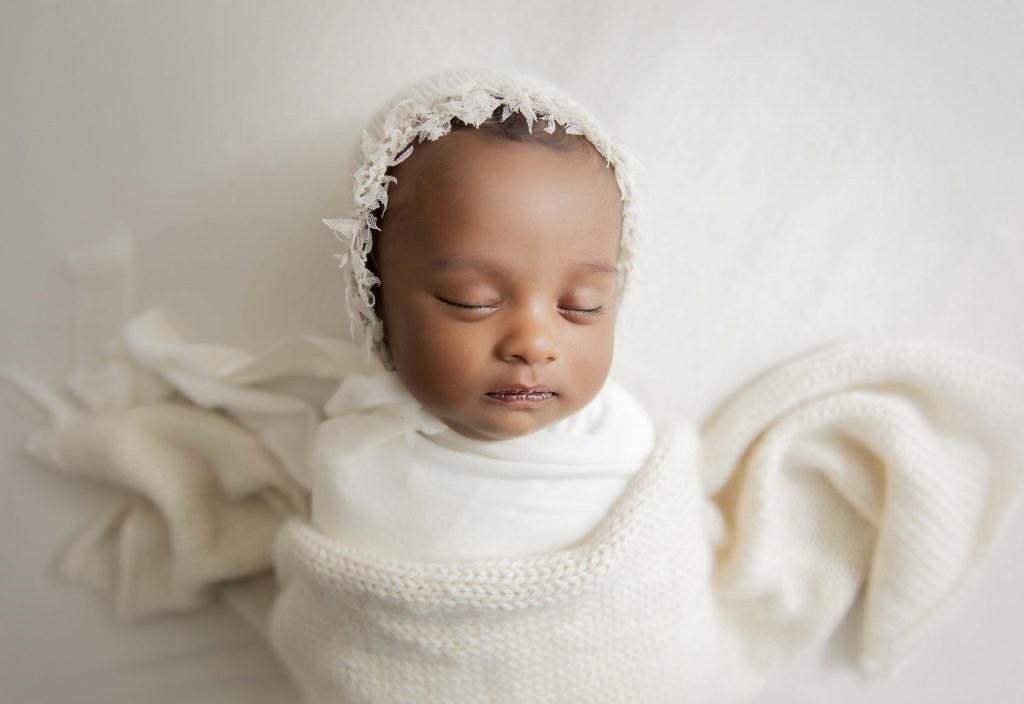 2. Egg Wrap:
This look like the easiest of all poses but honestly, just getting that wrapping technique correct is a big deal in itself! In this pose, the baby is swaddled in a way such that the wrap looks like an egg shell around them! The goal for this pose should always be to wrap the baby such that their face, hands and feet are all visible but sometimes, that doesn't happen!
For example, in the image you see here, baby boy refused to let me pull his right hand out of the wrap, so we had to improvise but he's so cute that the focus still stays on his face and I don't think mom and dad noticed that wrapped hand as much as I did!
3. Unwrapped/Unposed:
These almost always follow the wrapped poses. And, no two babies will be photographed the same way when being unwrapped. That is because their reaction to unwrapping always differs. Some deep sleepers will still keep sleeping and let me pose their hands up to look like they're stretching. Some will cry because, let's face it, I disrupted their cozy, warm position and now they're mad at me! And some, like baby boy here, will just take this opportunity to stretch.
I always feel like their little personalities peek through a bit in the moment they are unwrapped and hence, love to do these for all my San Jose and Bay Area clients.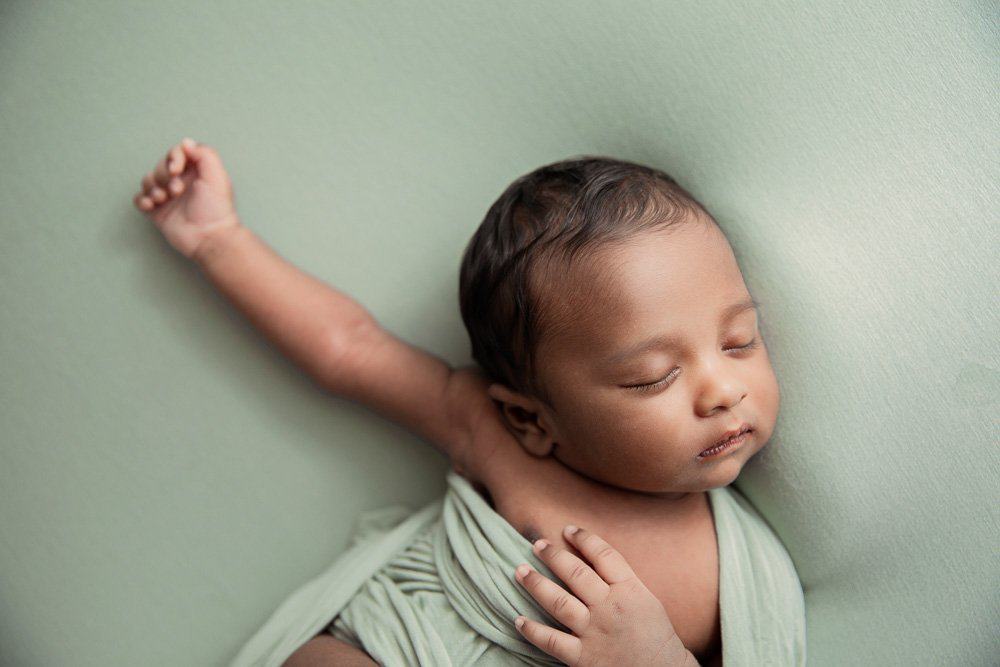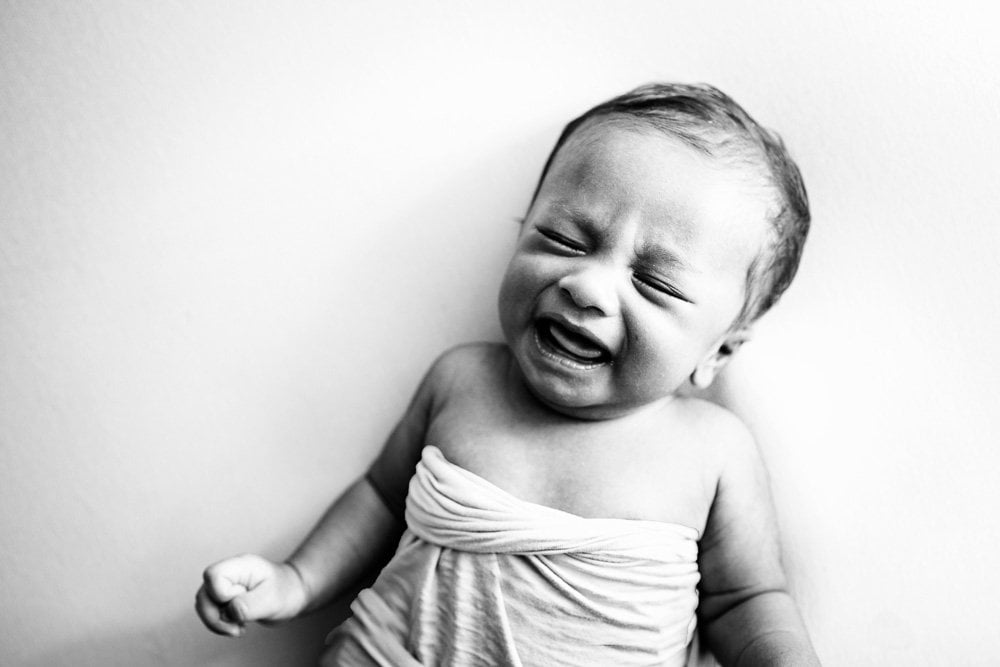 4. Tummy time:
As the name suggests, baby is placed face down on their tummy. But I bet if you try this at home, results will be VERY different! Which is why I hope you'll choose me to be your San Jose Newborn Photographer to get this perfect shot!
All poses that I do, require a number of posers and posing structures to help prop the baby at angles that work with their spine, are comfortable to look at and photograph beautifully. Will you believe me if I tell you that there's a pile of 8 cloth diapers under the backdrop that are being used to raise the baby's head like this?
I've had a few newborn clients recently, where I tried to pose them like this with their feet unwrapped, and some of the not-so-sleepy ones kept trying to lift themselves up already using their feet. This little man here was no different!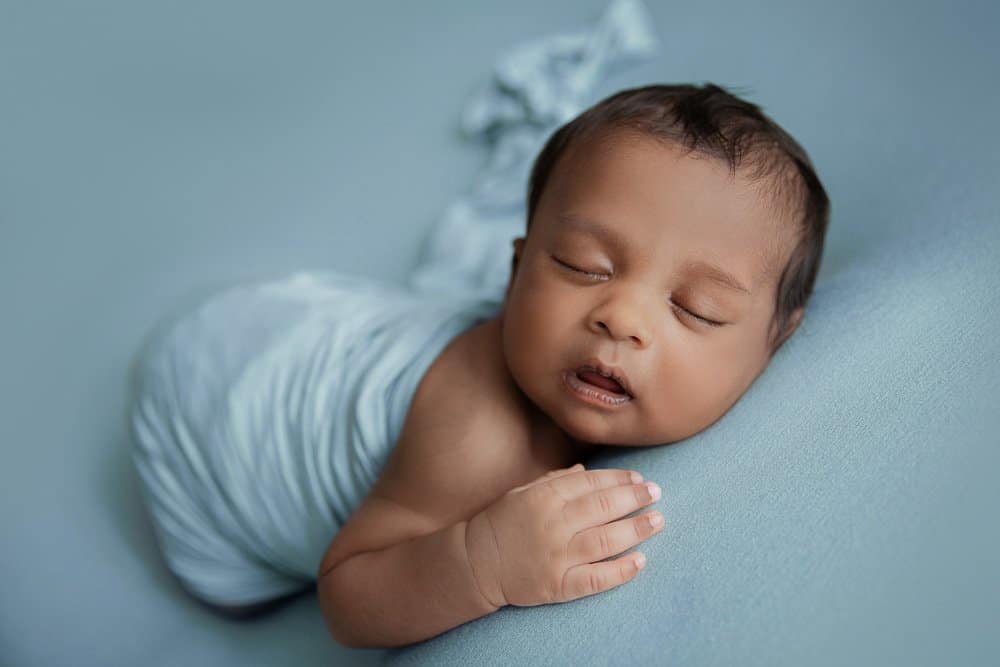 5. Snug as a bug:
Look! It's a baby in a slouchy hat, with a tiny bear, in a tiny bed! What's not to love about this?! I've had so many moms tell me they chose me to be their San Jose newborn photographer because of this pose that they saw on my website! I love that little bed and use it for every newborn photography session I do!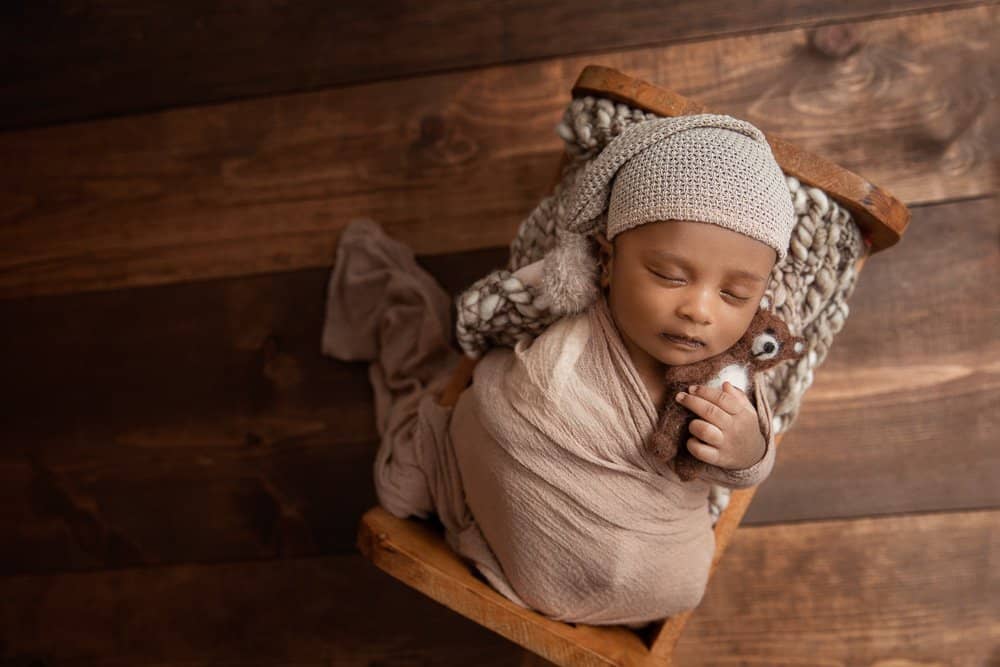 If you're a client or a client-to-be, I'd love to hear which poses, out of all the poses that you see on my website, do you like the most? If you are a photographer, I'd love for you to tell me your favorite poses and why you love them! Leave me a comment below!
If you'd like to discuss and book a consult for your baby's newborn photography session, as a San Jose newborn photographer, I'd love to hear from you! Send me a note and I'll call you as soon as I can!