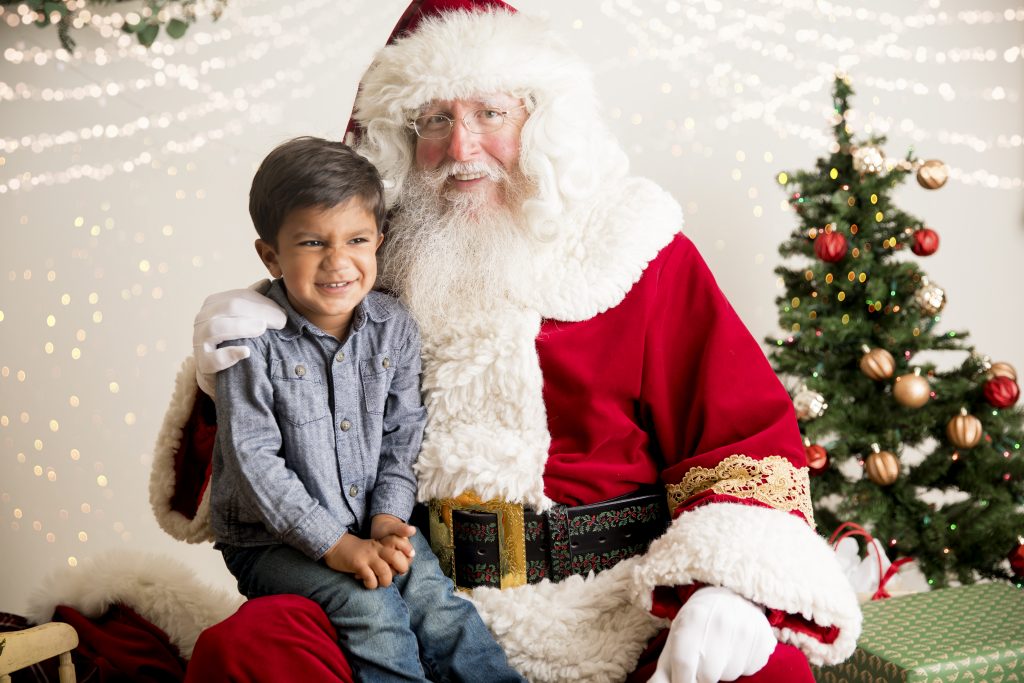 Being a Bay Area photographer, I have the privilege to work with so many families with little ones. Every year, I'm trying to think of ways that I can offer my clients unique experiences that go above and beyond the usual portrait sessions I do with them. This year I have a very special event planned for our clients to kickoff the holiday season!! I'm offering limited, Santa Experience sessions in in our Belmont studio that will get everyone right in the mood for the upcoming holidays!
These sessions will take place on Nov 16th and Nov 17th and will be held in Golden Shutter Portrait's studio in Belmont with the most adorable looking Santa who is great with kids! 
More on The Santa Experience:
Sessions will begin with the children entering the North Pole! Santa's helper will help them prep their Christmas wishlist, which parents absolutely love as they then know what to get the child for Christmas! Then, they'll go on to meet Santa on set. I'll have a few objects that the kids can paint using Santa's magic paintbrush and fairy dust! Santa's also bringing his Naughty and Nice lists so kids can look for their name on the NICE list and share their wish list with Santa.
Santa will read them a book too (The night before Christmas), but you're welcome to bring your own. In the past, I've had clients request Santa to read books on new siblings, sharing and even potty training!. Following this, they'll look for Santa's home on the globe and enjoy some milk and cookies! Santa will then give each kid a little souvenir and promise to stop by the night before Christmas with his or her presents!
What to expect on the day of the session:
Having done these in the past, as a Bay Area photographer, I totally understand that not all kids "like" seeing Santa in real. As a parent myself, I can assure you, I will try everything to make this a very custom, less stimulating, no stress session for everybody. If the child doesn't settle down, I will photograph them alone without Santa so you still will get great pictures to decorate for the holidays and for those holiday cards!
This session is! We encourage parents to join in towards the end to get group pictures with Santa and for infants, mom and dad can partake in session right from the beginning.
I'm working on this year's set design and am planning to turn my whole studio into a winter wonderland! Everything will be mostly white with pops of red, green and gold. Final set design and details will be sent 2 weeks prior to the session so you can decide on your outfits then! But if you're a planner and would like to get ahead of outfit selection, I strongly encourage a Janie and Jack kind of look for your child. Avoid bold colors and try coordinating the family in colors such as red, green, beige, navy, mustard or even white!
What to expect after your Santa Experience with your Bay Area Photographer: In-person Ordering appointment:
Once the session is done, I will go over your images and set up some time with you for an ordering appointment within a week of the session! We'll sit together and choose your favorite images from the day depending on the package you purchased! Digital files are included but additional wall art can be purchased on the day. Turnaround time for digital images will be 1 week from your ordering appointment.
There are three packages available and if you'd like to learn more, contact me here!!